TeamRedMiner has released what they call "R-mode" for AMD cards. This will, on some AMD GPUs, make it possible to run with a lower core clock, then lower core undervolt to save power without losing hash rate!
Last update: 29.January 2023
Its worth reading
TeamRedMiner Ethash R-mode Tuning Guide
but this expected behavior for the different GPUs:
- 6900XT/6800XT/6800: small power save of -2-3W by lowering core clk, might not be worth the effort.
- 6700XT: good effect, 1000 MHz core enough for 1075 MHz mem clk.
- 6600XT: our tests indicate no real point using power save. We are waiting for more user feedback.
- 5700XT/5700: big winner. Core clk 1050-1075 MHz is now enough to sustain 56 MH/s. Can almost always run at sub-700mV core voltage.
- 5600XT: decent winner. Core clk 950 MHz supports 42 MH/s; core voltage can be dropped low.
- Radeon VII family: solid win, hash rate restored to original C-mode levels and slightly more, an average boost of 2-3 MH/s per GPU.
- Vega 56/64: a small hash rate boost and power savings from using lower core clk. For 51-52 MH/s a core clk of 925-950 MHz is often enough.
Important! Please read the two following steps, or it will NOT work!
1,,. You will need to ena,ble "Run as root" in the miner's group config: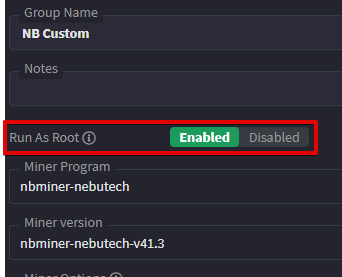 2. You will need to add
--kernel_vm_mode=RR
to your miner options (Found under Group Config in Simplemining).